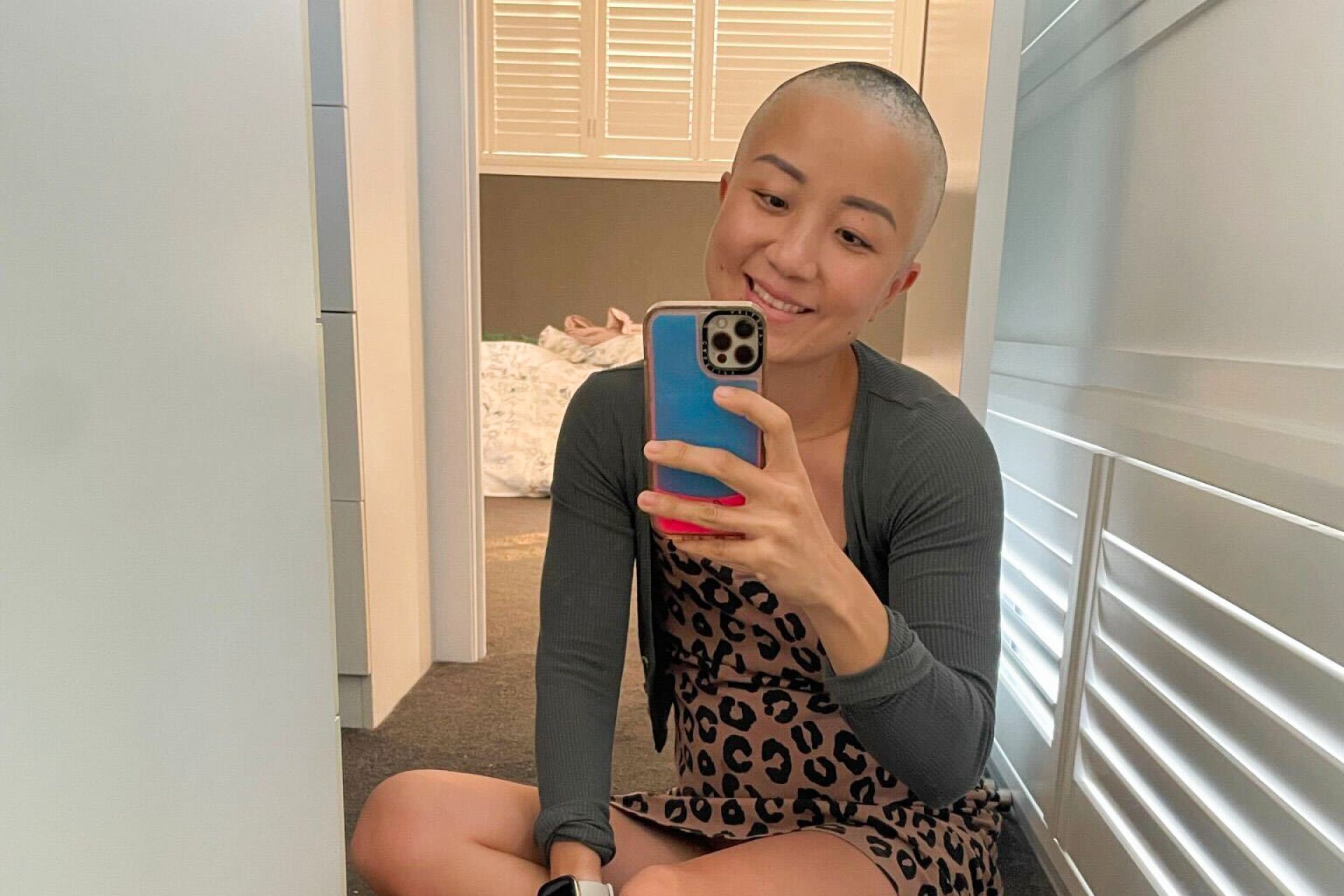 HOW DID YOU FIND OUT?
I discovered a small lump when I was in my 3rd-trimester pregnancy with my second child (Sept 2021). I thought it was colostrum/milk building up in my ducts prior to his birth. I was subsequently diagnosed late in Australia in March 2022 when a breast surgeon in Australia had a look and ordered a biopsy straight away. 3 days later, I was diagnosed.
WHAT STAGE WERE YOU AT WHEN YOU FIRST GOT DIAGNOSED? HOW DID YOU FEEL?
I was diagnosed with stage 3 triple negative breast cancer, one of the most aggressive forms of breast cancer with a much lower survival rate. I was extremely shocked when I heard the news, I knew it's not great (as my gut feeling tells me), but it never occurred to me that someone as young as me with no family history of cancer could have cancer.
WHAT HAS YOUR JOURNEY BEEN LIKE SINCE THEN?
It's definitely been a rollercoaster ride since my diagnosis, both physically and mentally. Since I started my treatment, I have gone through hair loss, on-and-off nausea, stomach reflux, sore fingers and toes, discoloured nails, skin irritations, infections, a weakened immune system and not to mention fatigue as a young mum who used to be fit and strong, it hasn't been easy at all. Emotionally I had also been through ups and downs a lot, sadness, overwhelming feelings, and mood swings were at times hard to deal with, also for my family members in the house.
WHAT HAS BEEN THE MOST CHALLENGING PART OF YOUR JOURNEY WITH BREAST CANCER SO FAR?
Besides the fatigue and changing appearance, it's the part when I was sharing this news with my 6-year-old and talking to her about what cancer is and what it means to our family from now onwards.
WHAT ARE SOME MINDFULNESS PRACTICES THAT KEPT YOU GROUNDED DURING THIS TIME?
I started meditation daily since my chemo treatment began. From as little as 5 minutes to however long I wish to. It dramatically helps me understand I have a safe place in the house to be and shut out all the chaos in my life for that time, to breathe calmly and simply be with my thoughts and my mind.
HOW DO EMOTIONS AFFECT CANCER?
I would say they have a big impact. Physiologically speaking, emotional burden/stress weakens our immune system and makes us sick, and some may argue chronic stress/holding onto negative feelings can be one of the reasons that cause cancer.
On the other hand, positive emotions help us deal with stress in life and strengthen our overall health. I personally experienced this when I was having my chemo treatment. During the week I managed my emotional health better, I had better blood test results even with harsh chemo drugs in the background usually bringing down my white and red blood cell count.
WHAT IS YOUR BIGGEST DISCOVERY/REALIZATION IN THIS SEASON?
Self-love. I mean to really put yourself first and do things that bring you joy instead of stress. That involves - stop caring about others or things that don't matter. It may sound too much but I do ask myself this question sometimes to give me some perspective - "if I only have one day left to live, will I do this? Or will I care about it?"
WHAT ADVICE WOULD YOU GIVE TO SOMEONE WHO IS GOING THROUGH A SIMILAR EXPERIENCE?
Living in the present moment. When diagnosed with cancer, it's hard not to think about "what if it comes back?", known as the fear of relapse. I tried to manage it by being present in my life and with the people around me. Sometimes all it takes is to drop my phone and leave it behind.
Also, to join a support group only if it helps you in a positive way. Some support groups will have members talking out of their stress and anxieties may leave you more worried instead. So try to pick your support system wisely.
WHAT/WHO WAS YOUR SUPPORT SYSTEM? WHAT ADVICE WOULD YOU GIVE ON HOW TO BEST SUPPORT A LOVED ONE GOING THROUGH BREAST CANCER?
Every single person in my family, including my kids. On some hard days, their smile or simply being who they are gets me through the day and makes me forget about my diagnosis.
The advice I would say is to simply "be there" for them. Someday they may want to talk about it, someday they may not want to, or simply wish to forget about the big C word. Do some research on nutrition as well and see if you could help them with some healing meals to get through tough treatment days, especially since they spend the majority of their time at the hospital!
WHAT ADVICE WOULD YOU LIKE TO GIVE TO EVERYONE IN THE XYZ COMMUNITY?
Please do your mammogram regularly and speak to your doctor if you find a lump at any stage in life regardless of your age. As when it comes to cancer, early detection could save your life and prevent cancer spread to other parts of your body. It took my "tiny lump" 5 months to develop into a 5 cm tumour, and invaded 14+ lymph nodes and possibly my spine.
Also, value your mental health as much as your physical health. They are equally or if not more important in preventing life-threatening diseases like cancer.